1967 Husqvarna 360 Viking #671235 AHRMA Project Bike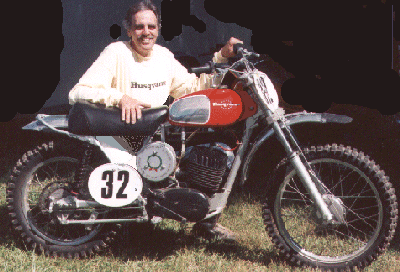 ---
This is my own AHRMA project bike that I have detailed here just for fun. It was built for limited AHRMA racing and one of my goals was to be sure it did not have plastic fenders, did have correct period colors and details. 1967 is of course a 4 speed, right hand shift, bolt together, small polished hubs, etc. This model Husky qualifies for AHRMA Classic 500 and must meet the suspension travel limits of 4"rear and 7" front. Photo is July 98 at Mid-Ohio prior to practice . This is an ongoing saga with details below!
---
Basic specs for a 1967 360cc, 4 speed, bolt together
Frame - 1967 #671235
Tail section - modified 67, no seat loop, appears like 68 rear loop, 67 seat mounts removed, shock gussets drilled for foward seat mounting of 69 seat
Swing arm - 1969 MG series, 1"longer than 67, shock mounts redrilled to lower1", top of mounts trimmed off
Rear wheel - Stock 1967 with SS spokes and nipples, Akront Green stickerWM-3x18, 2 rim locks, Buchanan's
Front wheel - Stock 1967 with SS spokes and nipples, Akront yellow sticker lipless WM-1, 1 rim lock, Buchanan's
Front forks - 76 upper tubes, 73 lower legs, 76 damping rods and orfices, travel 7", lowered in t-clamps 1"
Fork Springs - stock 76 with deflectors at bottom
T-Clamps - Pro-Fab alloy with 7mm setback, aircraft hardware, late model (75-77?)"big ball" steering head brgs
Handle bar clamps - 67 stock
Handle bars - VMX or Vintage Husky 67 stock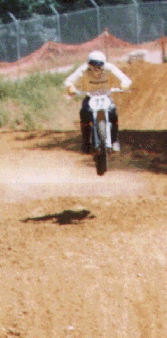 Handlebar Grips - stock 71-73 Husky Magura grips
Throttle - Magura 307
Control Levers - 73 era dogleg Magura from VMX
Cables - oiler style original
Brake stay rod - Vintage Husky custom made 69 style with added roller at foward, modified guide holder
Brake pedal - Vintage Husky custom made 67 shaft, 69 pedal
Rear Fender - 70-72 Husky polished alloy
Front fender - 70-72 Husky polished alloy with rubber flap
Front fender Brace - alloy aftermarket era piece to allow close to t-clamp mounting
Seat - modified 69 to allow moving foward 2.5" to eliminate gap - stock foam, recovered
Tank - Wassel (Hi-Point) small alloy, screw cap, air vent to steering head with filter, Red/alloy w/68 decals
Petcock - stock Husky 73 era
Rear Shocks - Progressive Suspension 12-1202B (13"eye to eye)with 03-1387B springs
Foot pegs - 1973 modified with tooth grip
Frame paint - Metal Prep, white Primer Sealer, Silver B/C Dupont
Number plates - white plastic oval with original mounting - VMX
Tires - Trelleborg T544 3.00x21 and 4.00x18
Tubes - Chen Shin
Rim locks - White Bros. - VMX
Fork Seals - 35x47x10 double lip - VMX
Engine -360 67-71 style center cases, no modifications #362xxx8s
Transmission - stock 1967 250/360
Clutch - stock 1967 with Barnett plates
Crank - stock 67-71 style, Large Femsa right shaft
Cylinder - stock 67 2nd over, no porting
Head - stock 67
Ignition - Femsa riveted style 68-69 w/points, lighting coil removed, Femsa tank coil, kill button on handle bars
Advance - 22 degrees BTDC
Chain - 428 DID 128 links VMX


Sprockets - 60T rear (67 stock), 15 tooth drive small keyed style (stock 67)
Exhuast - stock 67 360 expansion chamber, tail pipe cut to 3"with 1973 "hand genade" muffler, custom heat shield extension.
Carb - 36mm concentric Bing with 30/175 jets, cutaway atomizer, needle at #2 - seems a little rich all over
Plug - Champion N-3
Airfilter - VMX foam style element
Airfilter Housing - Vintage Husky 67 style flattop cover
Gearbox Oil - 20-50 Castrol GTX motoroil
Premix Oil - Golden Spectro at 3oz per gallon gasoline
Gasoline - 87 octane regular from local store
Fork Oil - PJ1 20 weight - seems too lite
Shift lever - stock 67 rotated down to level with right peg
Engine Paint - Plasticote 500 degree engine paint #230 flat black
Exhuast Paint - Plasticote HP-11

---
Any suggestions for improvement of this bike or page are welcomed!
My wife, Linda took pics on Aug 1,1998 at Budd's Creek, Maryland! The track was modern with jumps galore, but was a lot of fun. A free bike pressure washer was available, as well as full restrooms and showers for men and women and plenty of shade, food, professional starting gate, excellent track. I wore a yellow jersey in the first moto and a red jersey in the second.

details I am still unhappy with:
Brake stay should be alloy or Ti - too heavy
seat base should be alloy - too heavy
rear sprocket should be alloy - too heavy
handle bars could be alloy or Ti
upper fork tubes could be Ti
clutch basket could be lighter
clutch plates could be lighter
foot pegs should be lighter
British style gas cap on Wassel tank should be alloy
tail frame could be Ti
rider's skill at starting line is pathetic
carb tuning/ settings - seems too rich all over - probably drop needle one notch
fork springs or damping - seems too plush - probably try 25W by combining 20 and 30
HP-11 exhuast paint seems to rub off too easily

Items that i am happy with: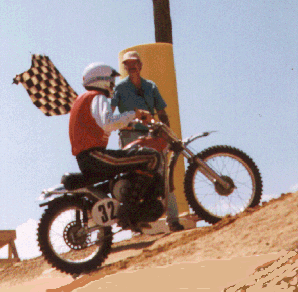 Progressive Suspension rear shocks seem superb
power of total package is more than enough
weight of total package is superb
Steering head bearings are excellent
first kick starting
idles well at start line
heat shield extension on expansion chamber prevents hot knee
Custom parts from John Lefevre at Vintage Husky are excellent
Rebuild/Support parts from VMX are excellent
Wheel work at Buchanan's is excellent - I supplied polished hubs and NOS rims - Buchanan's supplied ss spokes and ss nipples and laced wheels for race ready
HJC open face helmet - new
MSR plastic chest protector - new
Malcolm Smith Euduro Pro gloves - new
Scott Goggles - new
---
Current wet race ready weight is:
as measured by bathroom scale , one wheel at a time, 2" height on scale , measured 4 times

Front wheel weight - 90 lbs (88-90)
Rear wheel weight - 114 lbs (112-114)

combined weight - 204 lbs (93 kg)with all oil and half tank gas (.6 gal) + some dirt (2.2 lb = 1 kg)


Rider weight naked - 175 lbs
Rider clothing weight - Full Bore boots, MSR socks, Bates leather pants, MSR chest plastic, VI jersey, HJC helmet, Scott goggles, Jofa mouthpiece, MSR gloves, - 20 lbs
---
Latest Updates to 67 project as of 8/24/98:
rejetted Bing Carb to 165 main jet, needle in bottom position (leanest)
plug reading look excellent, bike runs better
Started using 115 octane gasoline CAM II (at $4 per gal) from local race track Summit Point,
still mixing Golden Spectro at 3 oz per gallon.
Opened up side cases (after 4 motos and some practice) prior to Aug 23 race at Evansville Raceway, Berwick, PAand found the following:
1. lots of magnetic debri clinging to plug
2. the eight clutch 5mm lock nuts backing off original settings, dangerously loose on one.
3. torque check on flywheel
4. torque check on sprocket nut
Action taken:
1. wiped out all visable debri, changed oil with bike on right side so i could pour in the full almost quart right into the engine , then reinstalled old gasket (with no sealant) and side cover.
2. installed new lock nuts on all 8 clutch studs, but i will inspect after next race, probably should have "bend tab" lock straps
3. checked okay - Still tight
4. Still tight
addtional critique after last 2 motos:
1. gearbox ratios are still as stock and not suitable for my current racing skill. The jump between 1 and 2nd is too great. It should be a closer ratio. I am never having to use 4th gear at all.
---
8/23/98 Berwick PA post race comments:
1. Best start technique is to use first gear start. Gearing is hi enough to allow adequate run out.
2. Practice mud seemed to give me biggest fit. Weight gain from mud was immense for 3 laps of practice. Need a better solution. Need info on Lycra "fenderskins"? or other anti mud build up products. Come race time there is no more mud. Late practice time did not help.
3. Chain appears loose. Possibly wearing out old, vintage , swingarm bushings....but could be just plain old chain stretch. This was a new chain for these two motos.
4. Gear ratios still stock and giving me fits during race between 1st and 2nd gear. Altho 2nd was perfect for Evansville "hill".
---
April 99 Budds Creek pre race prep-
1. Opened left case to check clutch nuts and found one nut and washer laying in case bottom! Could this have reallly happened to me. I thought i did excellent work! Anyway, my theory of using lock nuts instead of lock tabs is not good. i put in the stock "bend over lock tabs". (firgure out how lucky i was that these pieces did not go thru the gear sets)
2. changed oil, now i use 30 w Penzoil after reading about multiviscosity oils getting "ground up" to lo viscosity in a short period of time, due to the nature of a gear box. The theory is that gearboxes should use a single weight oil to avoid this chopping up of the long chain molecule oil . No big deal , you should change your oil after ever race weekend anyway.
3. Changed all clear vinyl tubing, gas lines, vent lines, oil vent, tank vent - i can see now that this should be done about every month, as the tubing gets stiff and brittle. No sense not doing this, tubing is cheap and you need the sealing capability and flexibility of new tubing .
---
April 99 post Budds Creek
1. My starting technique somehow involved getting hung up in the drop gate, watching everyone leave, getting unstuck, then riding like hell. My suicide technique of riding full throttle into the dust cloud passed 5-10 people. Not recommended, but i was very unhappy for a second and elated a few later. I need serious start work.
2. Inspected clutch, looked good. I lubed clutch cable by dripping a large quntity of oil down cable until it ran out the bottom of the cable housing, my clutch pull was cut in half! I now recommend this technique.
3. I am adapting to gear box ratios, not as much a problem. Rider of the bike is the weakest link.
---
July 99 pre MidOhio
1. Checked torque on head, motor mounts found way below standard, tightened everything on bike. changed engine oil, new plug, fresh gasoline, new tubing, tire air, cleaned/oiled air filter.
---
July 99 post Mid Ohio
1. Actually had 5 people in my class, all BSA's, great natural track, great weather, my usual poor starts, but i was able to make up ground on the start run with good old Husky get up and go.
ran a couple races in 99 after this - shippensburg and ? - no maintainence required
---

Feb/Mar 2000
1. pre season check - changed oil, replaced clear tubing, cleaned air filter, pulled left case and inspected clutch , pulled right case inspected ignition checked timing new plug ( not happy with 5000 ohm NGK plug cap , it bothers me, should not have5000 ohms but i could not find a suitable replacement), removed chain, cleaned oiled reinstalled, pulled throttle cleaned oiled reinstalled, pulled brake and clutch levers cleaned pivot point & oiled, oiled cables reinstalled, pulled exhaust sys off inspected for cracks, muffler cracked, replaced muffler , retorqued all mounting hardware

more to come!
---
Husqvarna Home page - <<<click here
---
e-mail Craig at husky@intrepid.net
---