1976 Husqvarna 250 WR Cross Country - For Sale!
$1000
12/06/09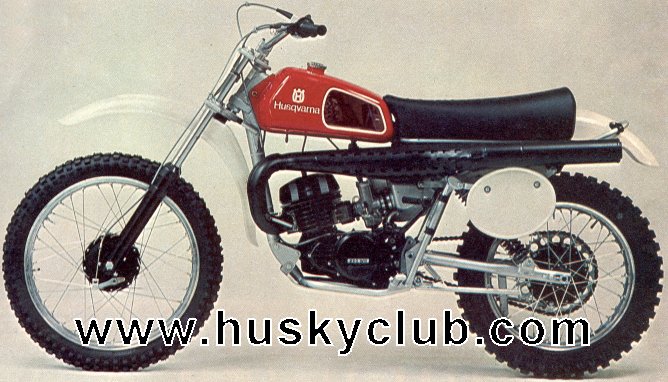 this is a picture of an original 76 250 WR , not mine.

---

Frame # ML 09118
Engine number - 2051-1206
Craig Comontofski is second owner, original owner Michael Newcomer, PA
period features - Preson Petty headlite, Dixie tailite, Malcolm Smith Alum skid plate, Falk fenders, VDO speedo, K&N air filter conversion with expansion kit,
---

With Husqvarna telescopic forks GP-danpening 7.5" travel front forks, the 213 pound 250WR also features a Bing 36mm central float chamber caruretor, Mag engine, crankcase protector, radial head, reed valve inlet, new insert silencing, forged piston with chrome steel 1.5 mm piston ring, and front hub adaptable to speedometer drive. An all new doublewalled expansion chamber keeps the decibels down to a civilized level. Additional notes were this model had a sparkarrestor muffler with a silcone rubber flapper disc, Femsa ignition that was capable of running lighting system, the classic Husky Red paint scheme, new white number plate scheme, two rubber noise damping straps across the head, white logo stenciled on the seat rear, embossed pattern in top of seat cover. The the first several thousand units looked as pictured above, but as the model year went on several '77 featured were already being incorporated, such as unpainted front hub, new "bent foward" kick start lever, new style fenders, some may even have 77 swing arm with kick stand.

---

detail notes on Husky Products kit for lights 75, 76, 77 borrowed from Dal Aymond
headlite - CEV 105, Tipo 105 , body stamped 04601, aluminum spacers used to bush to 360C, or Penton type mounts. CEV lense glass is marked - mod CEV 105, IGM 0121 PMx, 105-3, chrome ring is marked TIPO CEV 105

tailite - plastic lense, DZ, 77-825, SAE- PIL-70, black rubber mount, 2 wires, pair of bulbs #1895,
stamped inside is "USE 77-825 LENS" and "Dietz 2-54". This light is a truck cab marker light from 1975.
further checking shows the lens number is 77-825, the actual lite number is Dietz #002-54201 (red, 2 bulb).

tailite/license flap - rubber sheet, .185 thick, no reinforcing layers of any type. plate area is 3.875" tall by 7" wide, but tab is 5" x 4", 1/2"radius on all corners.

Voltage regulator - marked Henter Engineering, St. Pete, FLA. , LR-6. black plastic body is 1.25" x 1.75" x 11/16", potted with epoxy, alum tab mount 5/8" x 1.5", single yellow wire out bottom
www.huskyclub.com

---