1984 Husqvarna 500 AE - Automatic Enduro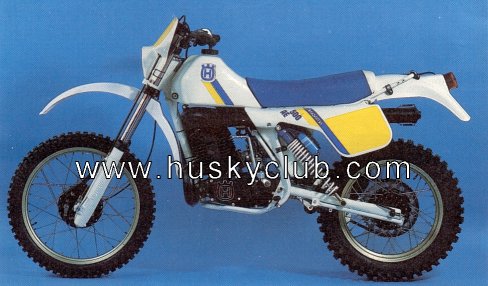 ---
frame number WO-19407
engine number 2090-xxxx
with frame number this high, this could be considered an 1985 as well.
the engine number is stamped so lightly, it is hard to find. It is on an area, facing up, on the left side of the centercases, just behind the kickstarter bump area.

---
Completely new 488cc engine designed for great reliability and hi performance. Adjusted to the demands of hard enduro racing. Tested during the motocross G.P. season 1982.
New 3-step automatic gearbox. Reinforced freewheel mounting. Clutchshoe shafts in needle bearings.
40mm front fork with improved damping system and shorter sliders for better passability.
Improved Husqvarna ITC rear suspension.
Watertight front brake.
New design: Tank-seat combination. Side panels and headlite housing.

---
Tech Specs:
Engine:
Bore x Stroke - 86x84
Displacement - 488cc
Comp. Ratio - 9.4:1
Trans:
Final drive- 12 tooth/53 tooth
Fuel tank holds - 12.5 liters
Carburettor - Mikuni 40mm
Electrical - Motoplat CDI, light coil 35 W
Tyres - 3.00x21 front, 5.00x18 rear

---
www.huskyclub.com