Evolution Series Husqvarna 1975-1987
---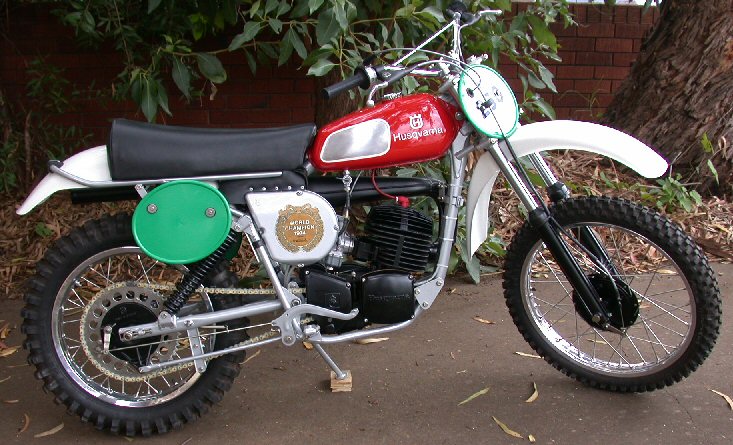 1975 Husqvarna 250 CR GP Mikola Replica - Peter Andrews - Australia
The 1975 CR 250 parts were purchased in June 1998 as a basket case advertised in a motor cycle trading magazine.

The restoration of this 250 began in July of 2004 when the frame, swing arm and various brackets were sent to be bead blasted and the parts powder coated, the color I used was

Dulux bright silver as the closest color to the original, there were a few brackets that were missing and I manufactured the missing brackets which were painted along with the frame. I used the original Bufo bolts and nuts which have been re-plated and as well I used button head stainless steel screws for the engine side covers, reed valve assembly and chain guard. The motor internals and gears were in excellent condition with very little wear apparent to any of the parts although a couple of the gears were worn badly which I replaced with NOS parts from Husky Parts Australia who also supplied the correct cables, I also replaced all the bearings and seals. I sourced two new pistons from the Husky Club Newsletter advertisement section and purchased them, as well as a new rod kit from Euro Rods, the ports were polished and aligned with cases and the motor was assembled and painted with Hi temp Satin black paint. The forks legs were re-chromed by Hard Chrome Services in South Australia, the correct tank, bars, Bing carburetor and controls were sourced at various swap meets and the tank painted by Husky Imports. I used a Uni Filter pro comp 2 air filter and I tracked down two of the correct large gold Mikkola replica decal one in pristine condition and the other slightly used but still in Minnesota for the air box cover. The seat cover and decals were sourced from Bultaco parts (MXM), Spoked Wheel repairs laced the Akront yellow label rims with stainless steel spokes. The Husky Club, supplied the NOS gas tank cap, the kill switch and the manuals for the 1975 250 CR. Click photo for bigger picture

---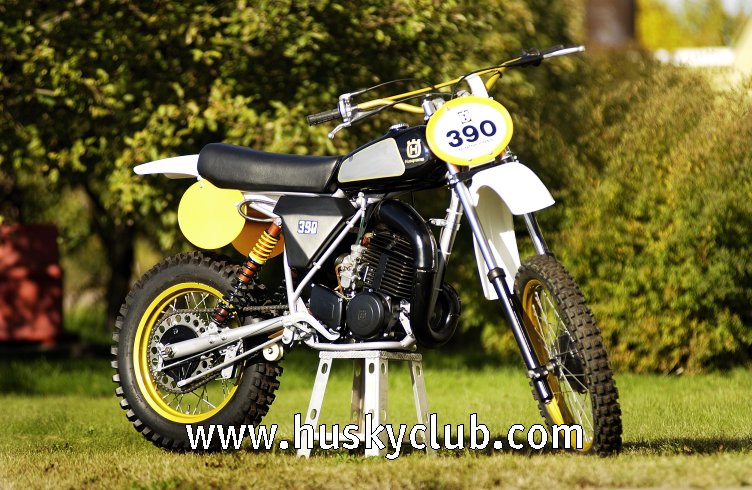 1980 390 CR
Peter Norman took a barn rat from junk to show bike. Are you willing to let your Husky not get this type of attention? At some point in thisHusky hobby we seem to want to honor the marque and we all turn down this road to show perfection. The finished product leaves the other competition bike owners in awe of the functional beauty. Not that all other marques are inferior. It is just a new, period Husqvarna is absolutelygorgeous. How about this 1980 390 CR? Excellent! Good looking and fast! Restoration at show level is not an easy task and takes a lot of patience, searching and a budget. At this point in time 2002, most parts to do this Husky can be found thru the club newsletter! click image for larger view

---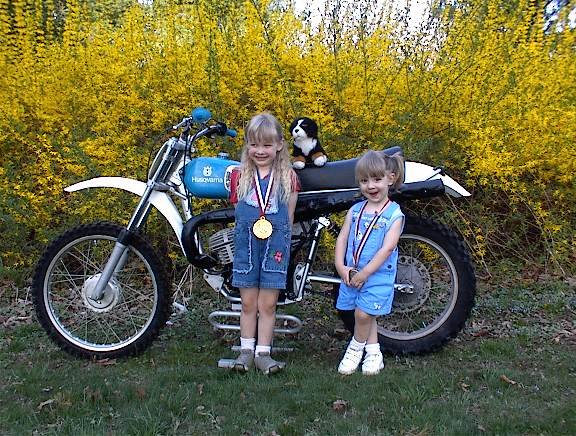 Husqvarna Gold 1976 175CrossCountry
Hello Craig, I have attached a few photos of the 1976 175cc restoration project. I think I sent you some photos (snail mail) a while back of just the frame and parts. I give all the credit to my good friend Mark Daigle for.. 1) buying the bike back from a high school friend of ours, Jan Lipka. 2) sneaking every part he could fit on his cooler (including the engine cases) into work and bead blasting everything. 3) using your great publication for information and contacts to put it all right. I was eight years old when my dad brought me to Pepperell MA. in 1968 and saw Torsten Hallman ,Bengt Aberg and the Husky team put on a show. I dreamed of racing a Husky someday. I got this bike eight years later.. I won my first New England championship on this bike. The two models are my nieces sporting ISDE Qualifier Gold Medals. (also won on Husqvarnas) Thanks for everything, you do a great job keeping the Husqvarna community together. Alan Wickstrand
---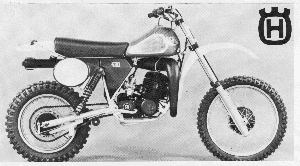 1981 Husqvarna 430 XC Cross Country
1981 was an all new magnesium alloy engine and 40mm forks for the entire Husqvarna line of motocrossers and cross countrys. Rear hub improvements along with heavier gage spokes, Ohlin suspension units at the rear and 38mm Mikuni carbs made these Huskys the fastest ever. The front forks had also been increased in diameter to 40mm with a travel of 11.8 inches. Price for new 430 was about $2685. Karlströms Motor in Sweden was the record selling dealer in 1981 with 227 Huskys, mostly 420 Automatics.
---
1982 Husqvarna 500CR Motocross
Mid 1982 Husqvarna introduced their new 488cc open class motocross winner, the "500CR". It is quite striking with a silver paint job and red striping. The giant 44mm Mikuni fed a new integral reed cage with 8 petals. The cylinder and head were a natural metal finish as all the models were for 1982. Ohlins piggyback reservoir shocks were standard equipment as were Trelleborg tires and Motoplat ignition. This model sold new for $2950.
---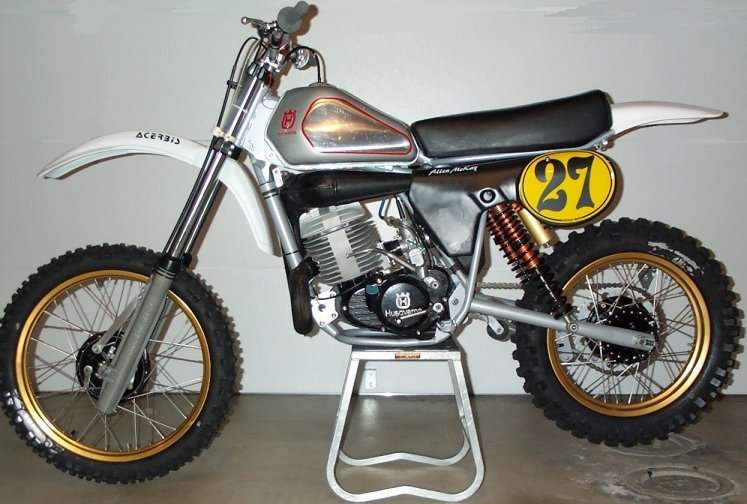 Husqvarna Gold 1982 500 CR
The beautiful 500 CR belongs to Husky Club member Allen McKay in California. This bike took an extensive restoration to put it in this condition, however it is used as a regular vintage race winner on most weekends on the west coast. Shocks were restored by Husqvarna 4
Speed, frame was powder coated, motor redone thru suppliers in newsletter. click the photo for large view

---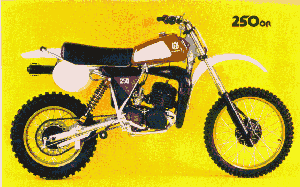 1980 Husqvarna 250 OR OFFROAD
1979continued the quality tradition at Husqvarna of producing "State of the Art" competition racing motorcycles that needed no additions, tuning, or modifications. When you bought a Husky, you raced that day! The gastanks had become more contemporary with square edges for the past several years and the suspension travel was up to 12" at both ends. Håkan Carlqvist was the last person to win a world title on a Swedish 2-stroke Husky and it was the the 250 World Championship in 1979. Update - of course Alessio Chiodi has kicked butt two years in a row (98-99) on a 125CR Husqvarna and has achieved world class winning status for Husqvarna in motocross again - and the tradition of excellence continues!!!
---

1978 American moto cross racer Mike Guerra raced for the factory in 1978, aboard a 125. He moved to the 250 class for 1979 and 1980. Finishing 7 and 8th in the US National series. He raced in Europe in 1981 and 1982. In 1982 he won the Spanish 250 Grand Prix. The last 250 GP win for Husky.
---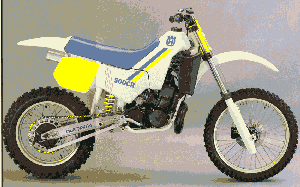 1985 Husqvarna 500CR Motocross
In 1985 Husqvarna's tradition of building the best motocross bike the public could buy and race was contiuned throughout the entire line of models. Liquid cooled engine, aluminum swing arm, single shock Öhlins Piggyback, Metzler tires(USA), were a few of the features. At 224 lbs for a 500 CR, this motocross machine was more than most could handle.
---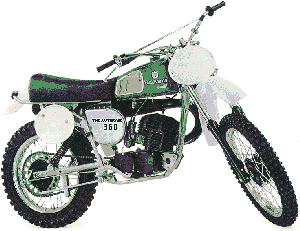 1976 Husqvarna 360 Automatic
1976 Husqvarna introduced more cutting edge technology with the 360 model called "The Automatic". It had it's problem when subjected to the thrashing of motocross, but in short order Husqvarna had an automatic off road bike that was unequalled by any other manufacture.
---
1982 Husqvarna MC 258 Swedish Army Model
The Husqvarna MC 258 came into use 1982. The Army needed a new bike to replace the old HVA and the Jawa. Three manufacturers were contacted to make a prototype, Husqvarna, Monark and Hägglunds. Hägglunds that normally only produced tanks, APCs and similar vehicles replied early that they were not able to build it. Monark and Husqvarna were left. The decision between these two great marques was difficult , but Husqvarna's better terrain abilities got them the order. They produced 3000 motorcycles for the Swedish Army. The Husqvarna 258 will be used until 2005, when it will be replaced by a new bike. One motorcykel that has been tested recently is the Husaberg .
The Husqvarna MC 258 is very reliable and the automatic gearbox works always well if maintained properly. We change the oil and check for wear once a month and have very few problems with it. The original rear shock absorbers are replaced by newer Öhlins absorbers as the older are worn out. My thanks to Richard Ohlsson. This a picture the "Swedish Lions" motorcycle show team.
---
Husqvarna Home Page
---