Ohlins from ebay
---
Ohlins for sale on ebay seem to have a slightly variable, but same text description -
This is a set of Ohlins 15.5" shocks. They need one new or good used shaft, & seals, bushings. Both hoses could stand to be
replaced or just recovered with an outer protector. The springs are really stiff do to the fact that they came off of a KTM 420.
The starting price is the reserve. I accept paypal, money order, cashiers check. Payment do within one week of the auction.
or
Pair of Ohlins off a 1982 Husqvarna 240 CR, but would fit other twin shock motocross or enduro bikes. Good overall
condition although their is a small 2 cm section of 1 damper rod that has chome rubbing through though not rough. These
shocks are fully rebuildable and if you know anythink about bikes will know how much these things cost new. Sold with a very
sensible reserve
or
Ohlins shocks 15 3/4" long center of eye to center of eye. I'm not sure what the spring rate is. I bought these on E-Bay for a
project bike but found some externaly ajustable shocks so I don't need these. They look straight,and don't appear to be
leaking, I don't know what shape they are in inside, I was going to rebuild them. For more info e-mail.

---
Please note : I am not trying to put down the sellers on ebay! They are doing their job, selling their items.
---

You get excited, the cost of these could be a big savings and allow you save a bundle rather than buy a fresh new pair! Your Evo bike is not handling well, the works performance or progressives are absolute junk and are not functioning and leak to boot and actually they came off your buddys CanAm. You know Ohlins are the best. Let's see how this would go.

You log on to ebay and find not only a cheap set of Ohlins, but in this case the seller is going to pay you $100 to take them. (not very realistic, but let's go with it). It is a set of piggybacks described as follows - Pair of Ohlins off a 1982 Husqvarna 430 CR, but would fit other twin shock Motocross or Enduro bikes. Good overall condition although there is a small section of 1 damper rod that has chome rubbing through, but not rough. These shocks are fully rebuildable and if you know anything about bikes will know how much these things cost new.

They are shipped to you for $30 and they arrive with $70 in cash plus the free set of Ohlins. Whuuuuweeeeeeee!
you inspect and find actually both shafts are pitted, the springs have corrosion, the eye ends are slightly damaged, the gold reservoirs are scratched up, the bushings are shot, the heim joints are loose, no spacers or mounting hardware is with them, the reservoir valves look rusty, the big, travel end bumpers are toast and have banged up the seal scraper caps, and you find they are actually marked as being valved for an 81 250 WR, but you really don't know.

You package them up and send them to a reputable shop in California or New Jersey and the estimated cost of repair is as follows -
labor/gas /oil - $75 each shock - $150pair
kit for reseal - $65 each shock - $130pair
revalve to your specs - $90 pair
reservoir end caps need replacing - $40 pair
bumpers - $20pair
sealhead caps - $25pair
lower end bushings - $20pair
heim brgs - $40pair
heim mount seals and spacers - $30 pair
new shafts - $110 pair
shocks are designed for 160 pound rider - you weigh 220
new correct springs - set of 4- $260

These babys would be just like beatup resealed rusty Ohlins shocks with new springs if you did it right, and you have $70 , whats the total? 150+130+90+40+20+25+20+40+30+110+260=$915 minus the $70 you have = $845+shipping to and from

---
Well this is not very realistic! - you know that Husqvarna 4 Speed sells a kit for $60-75, and you can live with one rusty, unknown rate spring pair, and maybe only one new shaft (you will chance the pitting on the other for sake of cost), you will stick with the leaky valves on the reservior end caps (you can pump these up every now and then with shop air). Oh yeah, lets assume the ebay guy didn't pay you $100 to take them, lets assume you pay $150 plus $30 shipping for this set. you decide to only get one set of springs , the long ones because things are costing too much. And you will live with old valving and spacer specs cause you want to save money even tho it is not even close for what you want to do. You will leave in the old heim joints cause it might work out okay. And even tho they are the wrong length maybe you can weld something on the swingarm. Wow, okay, now what is total?
150+30+150+60+55+30+20+25+20+130 = $670 + shipping to and from shop
---

think of that savings and what the finshed product will be - a pair of beat up rusty shocks, worn out rusty small springs, misvalved, leaking pair of rebuilt Ohlins shocks of the wrong length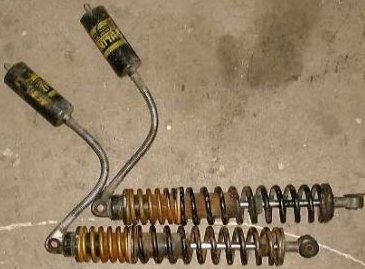 - what a deal! maybe there are some other items to leave off so this will be less money. Maybe we can leave off the springs altogether and not replace the bad shaft and ..............................You can show the finished product to your buddys, and will they be impressed! ebay wow! yeah, I saw that set!, $150, good deal!
And think of how reliable this set up will be, not only good looking, but you have to pump them up each time you ride! Has anybody got any air? please. Does this right one look like it's leaking, i think they are supposed to weep a little bit, don't ya think?

We didn't talk about hoses! what about hoses? I really don't need the correct springs or length! I am just going to trail ride! Isn't air okay in these shocks, it can't corrode the internals that fast, can it? Expanding moisture can cause overpressure? Can't be that bad, i only ride in cold weather. What about these eye ends that are beat up? and they don't bolt on at the bottom like they should, are there different eye ends that would fix this? Did you see that pair of Curnutts on ebay, i wonder what they fit?

---
Let's see, hummmm, a new pair of Ohlins piggyback shocks, brand spanking new, valves and springs for me and my (Husky, Honda, Maico, CZ, CanAm, Bultaco, Penton, CCM, Suzuki, Kawasaki, Montesa, Ossa, Hercules, KTM ....etc )bike, perfect - $695 +ship - everything new! EVERYTHING NEW!
ready for years of use, supplied with spacers and bushings so they just bolt on. I can now spend time working with the engine and finding my best riding techniques.
---
Just my quick thought on the subject, maybe i am not giving this a fair shake to see how big bucks can be saved by purchasing from an auction site? any thoughts?

---
Does the shop you call on have specs on all the vintage Ohlins applications? Husky, Honda, Maico, CZ, CanAm, Bultaco, Penton....etc. Do they do enough business to even care about these details. Call a competitive shop and ask them if they have Johnnny Omara's Ohlin specs for his 1980 works Honda, or Mike Guerra's Ohlins specs for 1980 works Husqvarna. Maybe you will recieve a polite story on how "things are all different now, everything is different and we put in all the new spec stuff".

---
If you want the best Ohlins for your vintage application and you want to deal with someone who spends time with details for your application , be it Husqvarna or any make 1955-2003, and you are a serious player, Contact Craig at e-mail husky@intrepid.net