You might be a Miura owner if............................
---
you know more about Bob Wallace than you do about President George W. Bush.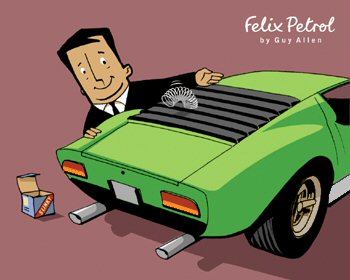 you actually know how to spell Ferruccio Lamborghini.

you keep an empty well known Italian winery labeled bottle in your
garage just certain you will find an automotive related use for it.

Zagato, Zampolli, and Zamboni are names easily used in conversation.

you know nothing about bull fighting, yet somehow can name 5 bull breeds.

you have first hand knowledge why someone would want a Halon system in a car.

you can set a hand operated diaphram hot water matrix control valve as
accurately as any dual zone Cadillac digital system.

you get excited when you find obscurely listed Fiat parts on Ebay.

you secretly own a Slinky to impress the local kids in your neighborhood.

---
More than rules, they are LAWS!
As the owner of an Italian vehicle, you have undoubtedly found that, from time to time, the thing defies all known laws of Physics. Distinguished researchers from all over the world have spent entire lives trying to understand such phenomena. Recently, the Six Laws of Italian Sports Cars were discovered, thus reducing most owners' dependency on sorcerers and prayer, to keep such cars running.
Careless application of these laws to any individual auto may fix the problems of the moment, but cause hives or allergies in said owners.

1) THE LAW OF PLEASING DESIGN WHERE IT REALLY DOESN'T MATTER
"The inside of cam covers or other relatively innocous areas, shall be laced with buttresses, cross-bracing and all manner of esoteric stiffness-with-lightness design, while something like connecting rods shall self-destruct at redline plus 1.0 rpm due to a basic lack of strength." An example of this Law is the stunningly beautiful Lamborghini or Ferrari V-12's of the late '60's. They were famous for wearing out all four camshafts in 10,000 miles or less. The cam's metal appeared to be recycled coathangers, which coincidentally are still in short supply in Italy.

2) THE LAW OF NON-FUNCTIONAL APPARATUS
"All Italian Sports Cars, regardless of age, shall have at least one system or component which does not work, and cannot be repaired. Such a part shall never be mentioned in the Official Shop Manual, although there may be an out-of-focus picture shown." It goes without saying that such parts should never under any circumstances be removed, lest the natural balance of the car be upset.

3)THE LAW OF ELECTRICAL CHAOS
"All Italian Sports Cars shall be wired at the Factory by a cross-eyed, color-blind worker, using whatever supplies are within reach. All wires shall change color-code at least once between energy source and component. all grounds shall be partially insulated." This tends to guarantee that the owner of such vehicles will eventually be intimately familiar with its electrical system, since he will need to trace out each wire, then rewrite his Official Schematic, which will differ from all others in at least one area.

4)THE LAW OF PERSONAL ABUSE
"The more an Italian auto breaks down, the more endearing it becomes to its increasingly irrational owner." For example, you purchase an Italian Sports car, for all the money you ever hoped to earn, and receive a ticket for air pollution on the way home from the dealer due to the vast clouds of smoke that follow you. Several return trips to said dealer, accompanied by your rapidly dwindling cash reserves, cures the smoking. But now, the engine sounds like a food processor full of ball-bearings. After replacing every component in the car, including the radio speakers, the noise vanishes and is replaced by an odor reminiscent of a major fire in a goat-hair mattress factory. You still keep trying, God help you.

5)THE LAW OF UNAVAILABLE PARTS
"All parts of an Italian sports car shall be made of a material that is available in inverse proportion to its operating half-life." Thus, the speedometer hold-down screws are made of grade 8 cold rolled steel, while the valves are of fabricated Unobtanium, made only at midnight by an old man with a pointy hat covered with moons and stars. Such parts will be backordered during the design phase of the car, and will remain so forever. Bribes, pleading and threats will be ignored.

6)THE LAW OF CRYPTIC INSTRUCTIONS
"Any official publications dealing with repair, maintenance or operations of an Italian sports car, shall be written such that every fourth word is incomprehensible to the average American. In the event that a random sentence is understandable, its information shall be wrong." This is also known as flat-tire English, where a sentence flows along nicely, then-Kaboom!

as shared by Fred P. from VLG group

---
TOP GEAR copy (2003) from Giles Chapman - subject: I Was There: Bob Wallace and Lamborghini Miura development - Without the car-handling skills of gravel-voiced Australian Bob Wallace, the Lamborghini Miura, unveiled in Geneva 37 years ago this month, might never have hit the road.

I was a race car mechanic when I joined Ferruccio Lamborghini's tiny company in 1963. I'd known the chassis designer Giampaolo Dallara from way back on the circuits from his Maserati days, and he talked me into going there. I figured that here was an opportunity to do something really interesting.
The chassis for the Miura was unveiled at Turin in 1965. Nuccio Bertone saw it and put his young designer Marcello Gandini on to designing a body for it before even speaking to us. It was on spec and the early work was all done for free, I believe. Gandini was very, very bright, and the styling was dead right - spot on.
A team of three of us worked night and day to get the car ready for Geneva at Bertone's design department. We half-killed ourselves, and the show car wasn't even a runner! But the public's reaction to it was fantastic; there was a book-full of orders and its layout, which, really, was based on the Mini's, changed a lot of people's thinking. Ferruccio was very pleased with the praise, especially when Ferrari or Agnelli or someone brought a load of engineers over to the car and said: "Gentlemen - wake up!"
To hell with it: I hated standing there in a stuffy hall. My job was to drive the car and improve the thing. The Miuras were a commercial success, but the early prototype preproduction test cars were rough. We really had to do the whole damn thing again from scratch. About two months later I had to drive the first road-going car to Monaco for the grand prix. It was good for publicity and I enjoyed it. There wasn't much traffic in those days. I was young and stupid, and I didn't know what would fall off. In Italy at the time, a set of test plates was like a gift from God. You never got a ticket, probably because old man Lamborghini had bribed the local police to leave us alone. It was insanity: only after a few accidents did I calm down.
The production car had a lot of shortcomings. It was reasonably well-built, but not very rigid and the electrical and oil systems were problematic. Fortunately, only about 10 per cent of our customers noticed. It was crude, hotter than hell, and a lttle cramped. You couldn't sell a car like that today, what we did back then is no longer acceptable.
I drove literally every one of the early cars, taking them out from Sant'Agata, along the freeway, up into the mountains - anything from 150 to 200 miles each. The cars did improve; we got a lot done because we were young and energetic. There are still many myths about all these cars and how great they were.
I would have loved to race the Miura. I even built a lightweight one in my spare time, but Ferruccio was absolutely aganst it. He realised he could not afford to do two things at once, like building road cars and running a race team. He was an extremely intelligent man...and that was an intelligent business decision.
Bob Wallace, 65, was Lamborghini's development test driver for 10 years from 1963 until 1973, helping perfect every model from the GT350 to the Countach. He now lives in Phoenix, Arizona, USA, where he runs an bespoke engine shop which works on, among other cars, classic Ferraris.

The Lamborghini Miura is the undisputed grand-daddy of supercars; the first V12-engined GT with an engine mounted transverse and in the center. Of the first Miura P400 cars, 275 were built between 1966 and 1968, when a slightly improved Miura P400S (338 were built 69-70) was released. The final model, the P400SV (150 were built 70-73), was further updated with 385bhp on tap. All Miuras could top 170mph, but it was really the gorgeous looks that made it every schoolboy's bedroom pin-up in the late 1960s.

---
from VLG Mark B. - 04/2007 - Guys (and gals hopefully ;~)>

How many VLG users does it take to change a lightbulb? Wink

I'll let you do the math - I may have missed one or two categories.

1 to change the light bulb and to post that the light bulb has been changed
14 to share similar experiences of changing light bulbs and how the light bulb could have been changed differently
7 to caution about the dangers of changing light bulbs
7 to point out spelling/grammar errors in posts about changing light bulbs
5 to flame the spell checkers
3 to correct spelling/grammar flames
6 to argue over whether it's "lightbulb" or "light bulb" ... another 6 to condemn those 6 as stupid
2 industry professionals to inform the group that the proper term is "lamp"
15 know-it-alls who claim they were in the industry, and that "light bulb" is perfectly correct
19 to post that this forum is about lamborghins and to please take this discussion to a lightbulb forum
11 to defend the posting to this forum saying that we all use light bulbs in our lamborghinis and therefore the posts are relevant to this forum
36 to debate which method of changing light bulbs is superior, where to buy the best light bulbs, what brand of light bulbs work best for this technique and what brands are faulty
7 to post URL's where one can see examples of different light bulbs
4 to post that the URL's were posted incorrectly and then post the corrected URL's
3 to post about links they found from the URL's that are relevant to this group which makes light bulbs relevant to this group
13 to link all posts to date, quote them in their entirety including all headers and signatures, and add "Me too"
5 to post to the group that they will no longer post because they cannot handle the light bulb controversy
4 to say "didn't we go through this already a short time ago?"
13 to say "do a Google search on light bulbs before posting questions about light bulbs"
1 forum lurker to respond to the original post 6 months from now and start it all over again.



---
you know a little bit about Miura bulls.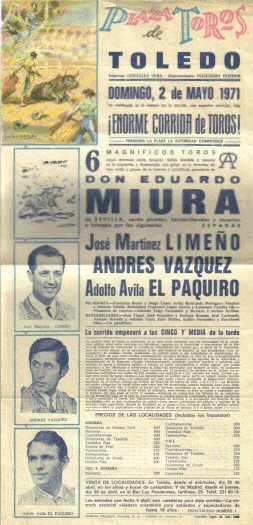 1971 Bullfight poster from

Plaza de Toros at Toledo


6 magnificent bulls are from the Don Eduardo Miura breed and recieve top billing. Below are the three courageous bullfighters

clips from various websites are below in random order

LINARES July 4th 1947 - "The Bulls of Death" - The Miura Bulls (Don Eduardo Miura) - So called because they had been responsible for the deaths of many of Spain's great Matadors . Manolete's second bull and the 1,004th of his career was small and black its name Islero. It had one small defect. It had very bad eyesight and tended to chop with its right horn. His manager begged with him to finish this bull off quickly . In the final act Manolete slowly, deliberately pushed the sword deep up to its hilt, Islero jerked his right horn up into the matador's groin cutting his femoral artery. As the Banderillos carried the dying hero to the infirmary, the stunned crowd rose to applaud.
http://www.geocities.com/matador1920/manolete.htm

Islero--(1947)--miura bull, 495 kilos, that killed one of the most famous matadors of all time, Manuel Rodríguez "Manolete" in Linares, Spain

Q. Why does the bull have a "rosette" on its back when it enters the ring ?
A. All bulls are bred on ganaderias (ranches) which specialise in fighting bulls (toros de lidia). Each rancher (ganadero) makes his own distinctive notches in the bulls' ears, has his own branded insignia and his own colours. The rosette (divisa) shows the colours of the ranch which bred the bull and has a small barb on it. Just before the bull enters the ring via the toril gate, it is inserted into its hide using a long spring-loaded pole. The most famous ganaderia is that of the infamous

Miura

bulls from Seville.

In today's bull ring, as with gladiators in the ancient Roman Colosseum, the bull has at least a tiny chance to win, survive and live to a very happy old age.
Think back to how the great bullfighter Manolete (Manuel Rodriquez Sanchez) was gored and killed by the bull Islero on August 28, 1947. Islero's victory and fame – his name yet remembered more than half a century later in the Hispanic world – earned him a life at stud* to produce more of Andalusia's (named for the Vandals who settled southern Spain) fierce Miura bulls.

*(seems to be conflicting story on Islero)

---
from 2005 - The

"Victorinos"

, finally make it to Pamplona along with

Fuente Ymbro

, this bull-breed from Caceres will be the big novelty for Sanfermin

2005


This Caceres breed fromVictorino Martín Andrés will be the big novelty on the Sanfermin 2005 bullfight program, as was announced yesterday by La Casa de Misericordia organization. It was also confirmed that bulls from the Seville breeder Fuente Ymbro, will also participate in the next Sanfermin program.
Victorino Martín, has long been one of the best known bull breeds in Spain but this will be their first time for them to fight in the Pamplona bullring. In existence since 1919, this particular breed has never fought before in Pamplona – apparently, and especially so in these last years - because of discrepancies about the financial arrangements between the two parts.
The other novelty for Sanfermin 2005 will be

Fuente Ymbro

, a new bull brand just in existence since 1996 and bred out of

Jandilla

bulls and cows. Over the last few years they have proved to respond well in the bull rings. The other breeds will consist of

Juan Pedro Domecq

, for the third consecutive year;

Miura

, constant visitors since 1979;

Cebada Gago

, which has only missed one year in the past two decades;

Jandilla

, chosen as the best bulls from last year's fights;

Santiago Domecq

, who return after a two year absence; and the

Dolores Aguirre Ybarra

bulls come for the fourth year in succession.
Regarding the "novillada" (young bulls) on the 5th, the

Miranda de Pericalvo

breed will once again be the protagonists. Meanwhile for the "corrida de rejones" (bullfight with horsemen) on the 6th, the Murube breeder will provide the bulls for that day.
The Breeders who have been contracted -



MIURA

, from Lora del Rio (Seville)

D.

JUAN PEDRO DOMECQ

, from El Castillo de las Guardas (Seville)

D.

VICTORINO

MARTÍN ANDRÉS, from Moraleja (Cáceres)

HROS. de D. José

CEBADA GAGO

, from Medina Sidonia (Cádiz)



JANDILLA

, from Vejer de la Frontera (Cádiz)

D.

SANTIAGO DOMECQ

BOHÓRQUEZ, from Jerez de la Frontera (Cádiz)

DÑA.

DOLORES AGUIRRE YBARRA

, from Constantina (Sevilla)



FUENTE YMBRO

, from San José del Valle (Cádiz)

---
from some chat room - Lambo have always named their cars after items from the corrida ( the Spanish bullfight event ) , such as Miura, Jslero, Urraco, Bravo, Jalpa and Espada. But not the Countach - another story for another day

Diablo was the return to naming cars after bull-fighting and was a bull made famous bull after a ferocious battle with one of the greatest matadors in MADRID in SPAIN in the 1860s

Murcielago was the name given to a bull in CORDOBA in SPAIN in the 1870s. A famous bull-fighter spared the life of the bull in the ring after it had dsplayed unique courage and spirit. It was then used to breed a famous line of bulls for the bull-fighting rings of Spain.

And Gallardo is a famous bull-fighting breed, so the tradition continues under Audi

---
http://www.huskyclub.com/P400partslist.html
---