Lamborghini Fiaam Air box top - Off White and Red oxide

---
NAPA Martin Senour formula - Chris Scislo 09/05

| | | | |
| --- | --- | --- | --- |
| number | component | cumulative | non cumulative |
| 9845 | S WHITE | 711.4 | 711.4 |
| TS400 | TEK 2K MIX CL | 947.2 | 235.8 |
| 9903 | SPEED CURE | 1041.9 | 94.7 |
| 9866 | HS LO YELL | 1101.9 | 60.0 |
| 9854 | BLACK | 1141.9 | 40.0 |
| 9867 | HS IN BLUE | 1143.3 | 2.4 |
S7-62506L (58535) - Tec One Single Stage - Lambo air box grey



Also found that Ford Motor Company - Wimbledon White - PPG code is 8378 is a good match for the off white air cleaner lids



---
NAPA Martin Senour formula - Chris Scislo 09/05

| | | | |
| --- | --- | --- | --- |
| number | component | cumulative | non cumulative |
| 9842 | RUSSET RED | 548.6 | 548.6 |
| TS400 | TEK 2K MIX CL | 821.2 | 272.6 |
| 9903 | SPEED CURE | 926.3 | 105.1 |
| 9845 | S WHITE | 939.4 | 13.1 |
S7-59937-L (58531) - Tec One Single Stage - Lambo air box red
note - both air box colors were custom mixed at paint mix lab after computer scans did not prove exact match .

---
Fiamm Horn Trumpets - Candy Apple Red
Trumpets are stripped to bare aluminum and sprayed with translucent red until correct shade is aquired.
Polishing the aluminum is not oem and will produce a darker red, but pleasing with higher contrast look. Also the silicates in rogue can cause paint problems.
Translucent red (Candy Red) can be found at many auto parts stores in spray can form and its quality meets oem standards.
No silver or gold underbase is used, just directly on clean, bare aluminum.

---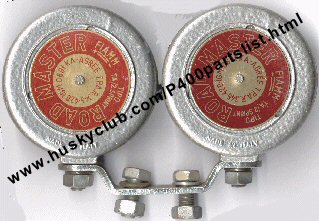 Fiamm Horn Trumpet Bases and Compressor - Silver Hammertone
Auto parts store spray can is logical source. Clean base material, prep work and application are key to professional results along with absolute best quality paint. Please note this is not the same paint as required for Lucas motors. I need some advice on what brand /color/application.

---
did this paint code and formula meet your needs? please let me know, thank you - p400@comcast.net
I need input to keep this info correct, thanks

---
01/12/06 - VLG - I redid my early Fiamm roadmaster airhorns (candy apple red) a while back. Gary Bobileff made a decal/sticker (restored to the original colors) that he copied from my very faded silkscreen that is applied to the aluminum pc riveted to the cover. Turned out great! I came across a very nice spray bomb finish from Duplicolor to replicate candy red aluminum finishes. It's called Metalcast and there is a silver color ground coat and a red metallic top coat. The can numbers are MC100 and MC200 respectively. The paint is not super durable, but, for a spray bomb, turned out pretty darned good. My compressor is original and in good shape, both the silkscreening as well as the hammertone silver. I painted the zinc cast housings that the trumpets thread in to with hammerone silver. Not perfect, but better than regular silver. I also replated the brackets and fasteners in zinc, not cad - I think that's correct. Jim Miura 3309
add - The hammertone finish I used was Zynolyte Silver # 1347. I've used Illinois Bronze Silver on other stuff and it yields a coarser texture which I imagine is more correct. The finish on the compressor is certainly coarse.