New Öhlins custom built shock sets
Evolution Vintage Öhlins

Craig Comontofski
1501 West King St
Martinsburg, WV 25401
husky@huskyclub.com

---
We build custom Öhlins shocks daily. Delivery is usually 21 days, but spring sets can sometimes cause a little longer build. Below are just a few of the sets I had time to photograph.

---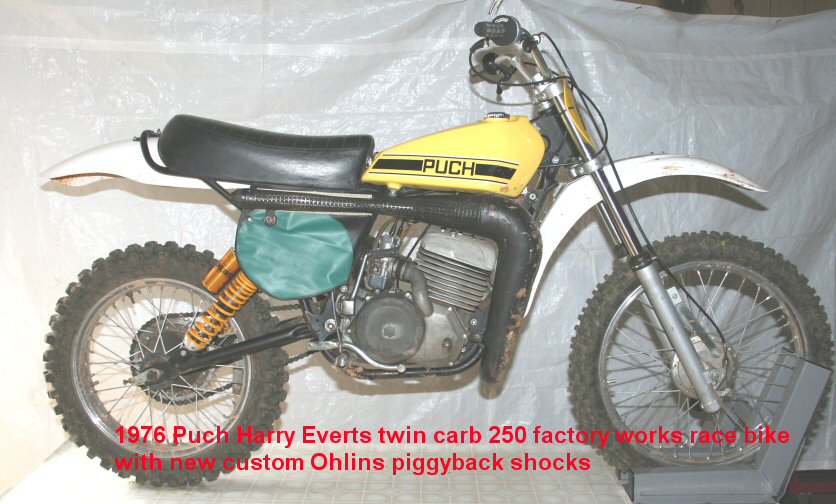 1976 Puch Harry Everts twin carb 250 factory race bike with custom Ohlins piggybacks, I-beam heads, needel injection, custom shin stacks, 110 anodized reservoirs, custom billet keepers, progressive spring set, custom spacers, alloy reservoir pistons,
---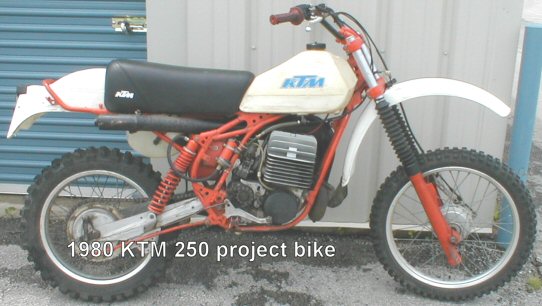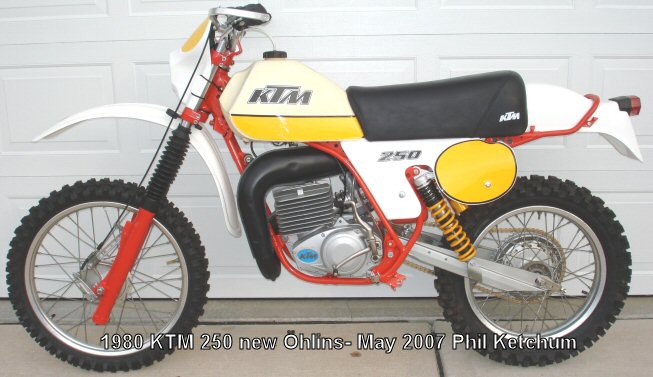 click for larger


1980 KTM 250 custom Öhlins piggybacks, dual spring, I beam heads, needle injection, custom shim stacks, 110 hard anodized reservoirs, alloy res pistons, new seal ring pistons, billet keepers, full spherical, custom spacers,



---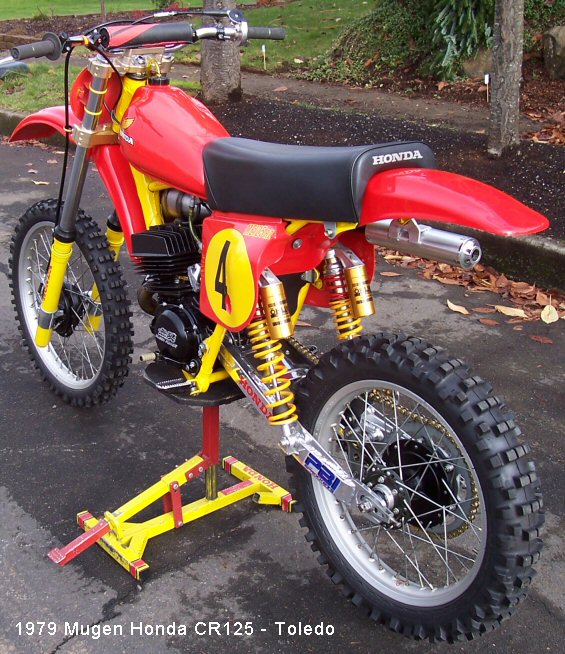 1979 Mugen Honda CR125
extended lower eyes for web clearance, I beam heads, offset spacers, 110 hard anodized reservoirs, custom spring set, quick set preload adjusters, needle injection caps, custom rider shim stacks. See 2006 VMX magazine #26

---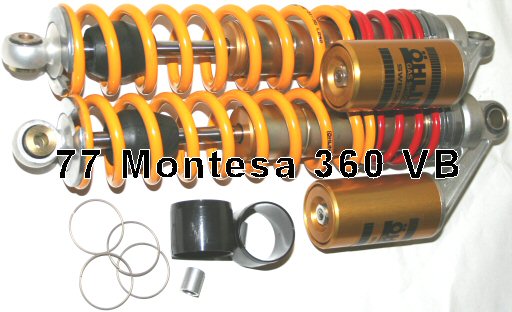 1977 Montesa 360 VB
9" wheel travel, 275 lb rider, offset lower mounts, needle caps, dual spring set,

---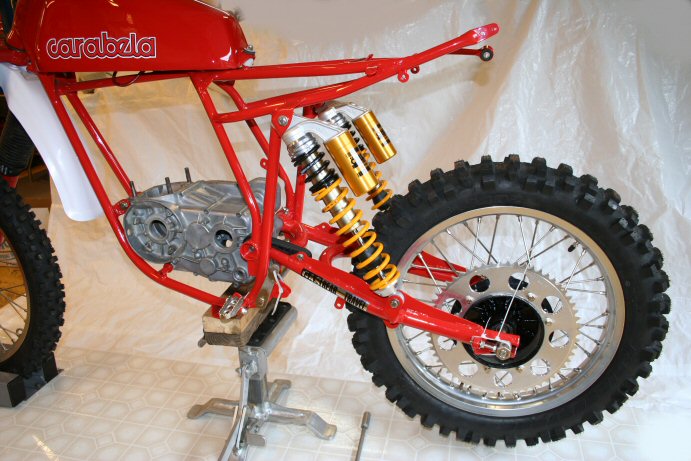 Carabela 250
expert rider, Mid -Atlantic region, click photo

---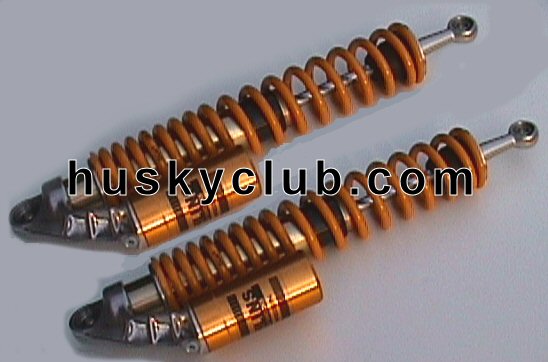 1984 Husqvarna 510TX
---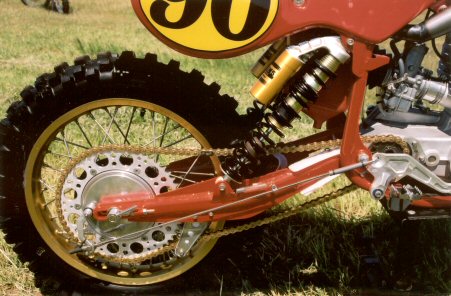 1981 Maico 490
---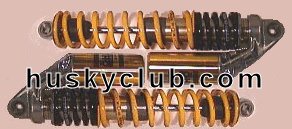 1979 Yamaha HL500 set
---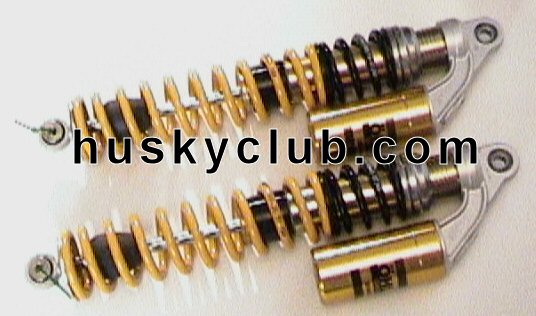 1980 Husqvarna 390CR


custom "I" beam heads, cam preload

---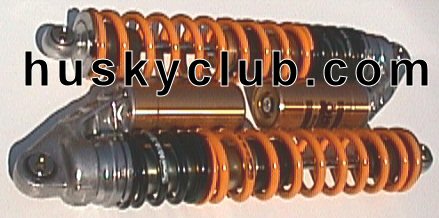 1980 Suzuki RM125
---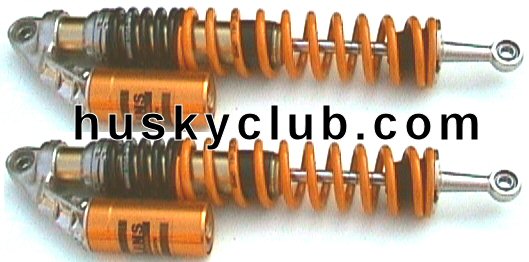 1983 Husqvarna 500 CR
---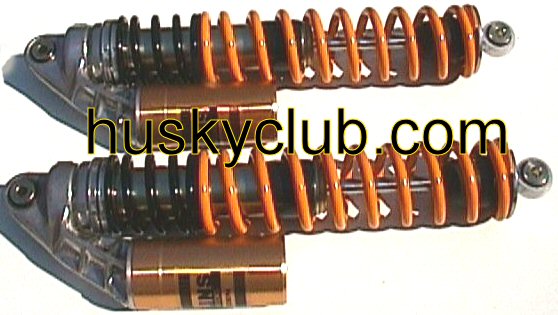 1980 Suzuki RM250
Cam preload, 210 lb rider

---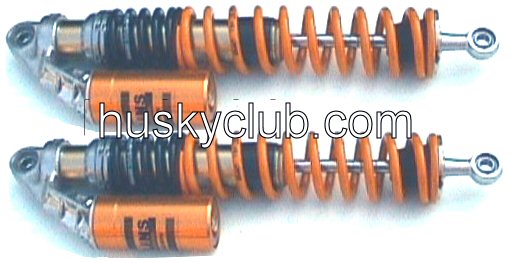 1982 Husky 250 CR/XC
---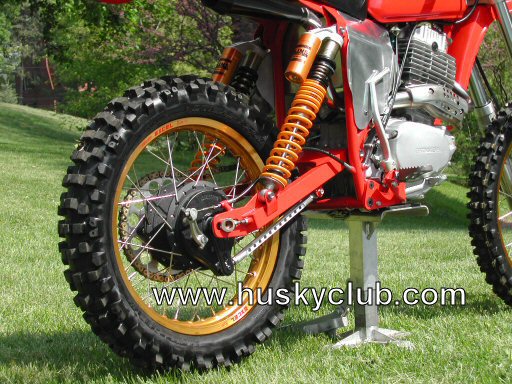 Honda C&J 500 Four Stroke Nationals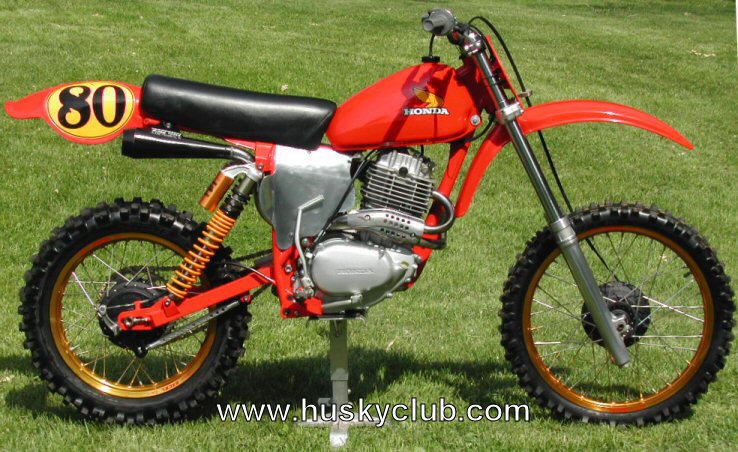 Custom "I" beam heads, triple rate springs, Burness valving, 140 lb rider, clic for big pic
See VMX 2005 magazine #24
---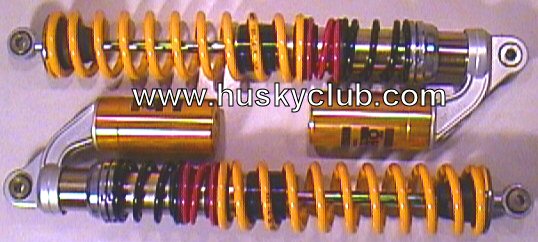 Honda CR250 Fox swing arm
Custom "I" beam heads, triple spring set, 160 lb rider, cam preload adjust

---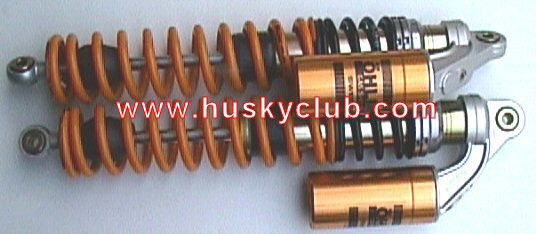 Honda CR125 Novation swing arm
I beam heads, cam preload, custom spring set, custom length

---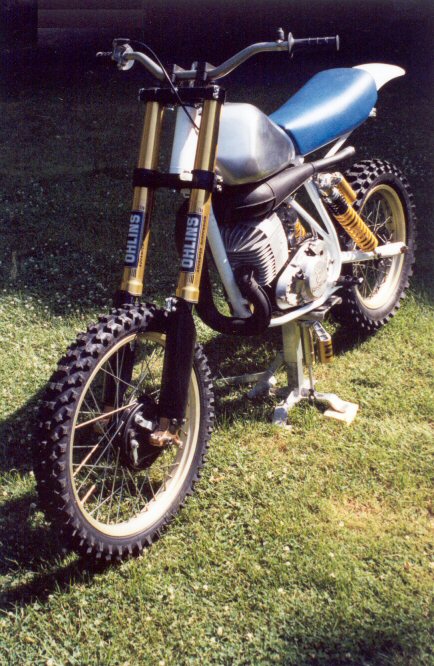 Project 83 500CR Husky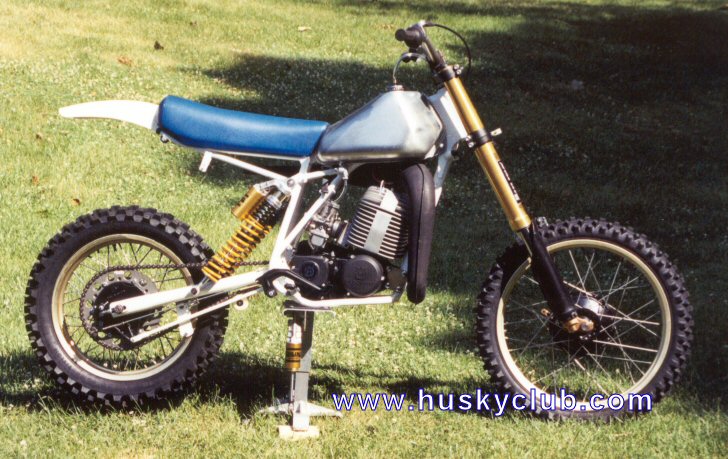 Ohlins forks, drum brakes, Ohlins shocks

---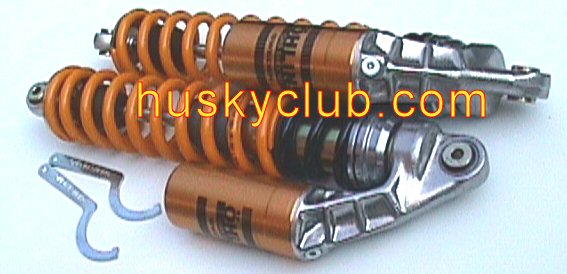 81 490 Maico
Web heads, cam preload adjust, cam wrenches, 250lb rider, custom length

---

The yellow springs in the photos above are all same color, photos vary for some reason. I am not sure any are exactly correct, but the color is Öhlins yellow.

---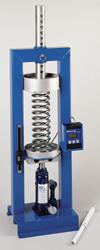 i think i may have more job pics to come, below are just a few -
1979 Honda CR250
1981 Maico 490
1979 Honda CR125
1980 Honda CR 250 , fox swing arm
1979 Yamaha HL500
1983 Husqvarna 430 WR
1982 Husqvarna 500 CR
1978 Husqvarna 250 OR
1967 Husky 360 with remote reservoirs and compression adj clickers
1976 Husqvarna 125 CR
1979 Can-Am 370
1979 Husqvaran 390 CR
1982 Qualifier IV CanAm
1977 Maico 250
1981 Husky 430 CR
1980 KTM 250
1980 Carabella 250


---
Using only the best parts that Sweden can supply, these Öhlins shocks are built in our West Virginia, USA facility. Each piece is reinspected and the components are expertly assembled in our clean room shop. We are the only shop trained to scratch assemble Öhlins sets to factory specs. Our specialty is old dirt bikes using twin shocks. As time progresses 1981 thru 1991 also become old dirt bikes. We are currently building single shock rear systems for some popular makes, but at this time it will take a longer time to build as we convert these recently old specs to modern off the shelf Öhlins components. Single shocks systems are fully modern with compression and rebound clickers to modern competiton specs.

---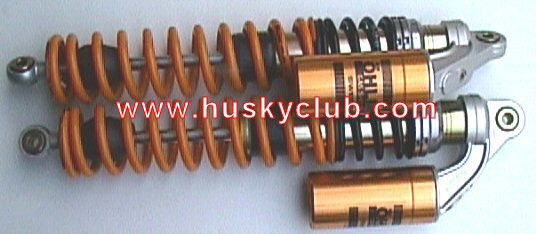 2005 - The classic web heads (as shown in many above) are no longer available, so all the new builds will be with more current technology

I beam

style heads. The new heads offer a better porting for even smoother response under motocross conditions. Larger less restrictive porting enhances the whole shock system.
The price has gone up slightly, as all else in the world has too!

price will vary with application but typically -
new price as of Nov 2011 - if you have been quoted higher price please note it has been revised


$960 pair for Maico, some Suzuki, some Husky, some Honda




$960 pair complete for most Husqvarna applications




$960 pair complete for all others.


discount for repeat customers.
shipping worldwide is just over our cost.

Hi tech pieces to add to custom build -
nothing to add, it is all included with build.

Certainly you could consider other brand twin shock solutions and many of them may be a cheaper initial cost. My advice is-you don't have time to waste on other substandard suspensions. Purchase an Öhlins system that is specifically for you and enjoy the ride. An Öhlins suspension allows you to go much faster and with more confidence. Öhlins is the standard all other are judged against.

We build for - Husqvarna, Honda, Yamaha twin, Suzuki, Kawasaki, KTM, Maico, Can-Am, Penton, Bultaco, Aprilla, Beta, BSA, BMW, Carabela, CZ, Cagiva, Gilera, Montesa, Triumph, Ossa, Yamaha and of course all others. We have the most extensive records of all period builds from 1976 thru 1990 - factory rider specs, production specs, specific factory riders on specific bikes at specific tracks builds. All of this is to allow for the best design Öhlins for you and your bikes.
1990's and 2000's Volvo, Mazda, SOQI systems and other automotive street/track/trail/icerace suspension systems rebuilt, revalved.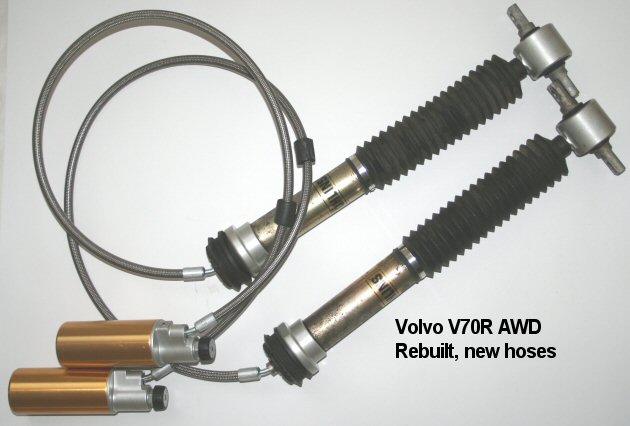 Volvo V70R AWD rear set rebuilt, new special swivel hose set, customer to install reservoir decals after installation.
ATV Ohlins systems rebuilt, repaired - Yamaha Raptor most recent
Snowmobile Ohlins systems rebuilt repaired -



---
A couple of key points to remember about shock systems - just getting the eye to eye dimension to match your needs is most likely not going to do the job for you. The stroke of the shock is just as important to get the full performance from your bike, the piston and shim stacks need to be tuned to your chassis dimensions, your rider weight and your type of events.

---
Rebuilt Ohlins shocks for sale -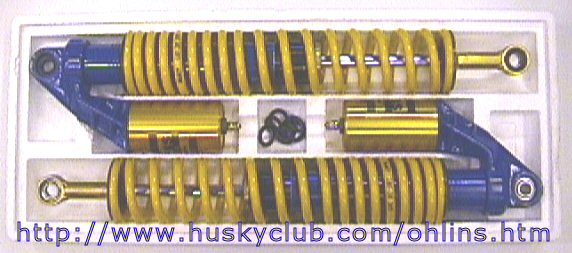 83-84 Ohlins ITC - $680 (when in stock) -

new springs, new valving, reservoirs, totally rebuilt, repainted ITC blue, gold anodized reservoirs, different springs available for lighter rider, now set for 200-240lb rider.


---
www.huskyclub.com/ohlins.htm
---