P400 Webers and details
---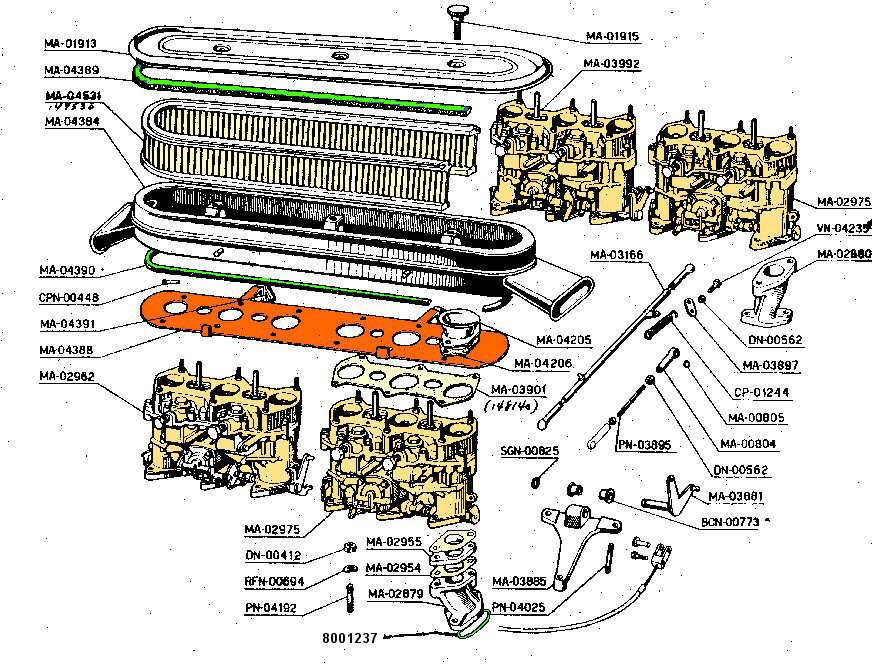 description

Lamborghini
part number

OEM manufacture
part number

notes





filter, air

MA-04531

Fiaam FI-3661

Baldwin PA-2093





gasket, foam strip top

MA-04389









gasket, foam strip bottom

MA-04390









gasket, individual air horn

MA-04206









gasket, carb top

MA-03901









gasket, intake manifold individual

MA-02954









isolator, intake manifold heat

MA-02955









o-ring, intake manifold individual

GN-01237









nut, weber to intake manifold

DN00412









washer, weber to intake

RFN-00694









stud, weber to intake

PN-04192





















Weber 40 IDL 3C - 2ea - left side front/rear

MA-02975

40 IDL 3C1 #xxx

serial numbered





Weber 40 IDL 3C - 1ea - right side front

MA-02962

40 IDL 3C2 #xxx

serial numbered





Weber 40 IDL 3C - 1ea - right side rear

MA-03992

40 IDL 3C3 #xxx

serial numbered





























notes from P400S parts book - starting with engine #30431,

GN-05367

intake manifold o-ring replaces

GN-01237

(8001237)
---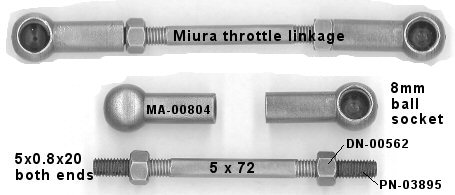 i would like a source for the ball ends. It appears this ball style linkage connection has been replaced in later years (1973 +)with a cylinder end and external clip. Are these ball ends with an internal circlip still available?


---
Spec pieces for a P400 Miura Weber 40 IDL 3C1, C2, or C3
Description Weber

Fig #

Quan

OEM
Weber#

Current
Weber #

Description
Italian

Size
in mm

notes



Venturi

67

3

34894.002



Diffusore

30

32



Aux venturi

68

3

31966.003



Centratore

4.50





Main Jet

60

3

41120.001



Getto principale

1.25

1.30



Idle jet

65

3

41160.003



Getto minimo

0.55





Air bleed

na

3





Getto aria

1.10





Accelerator pump jet

70

3

41252.001



Getto pompa

0.50





Air jet

74

3

41360.001



Getto aria di freno

1.80





Mix tube

73

3

61440.151



Tubetto emulsionatore

F 26





Inlet valve

72

1

64290.001



Valvola aspirazione (con foro di scario)

0.50





plate valve

25

1

64190.004



Valvola a piattello

closed





float needle valve

5

2

64240.009



Valvola a spillo

1.75























Adjusting 40 IDL 3C Weber float levels on P400


1. Remove carb top cover #1, remove gasket #11 carefully, check that the 2 floats #15 move freely.
2. Insert the friction spring tool #9620.175.1329 between float and bowl wall.
3.Assemble depth gage tool #9620.175.1840 and adjust it to the 18mm position and slide down over stud until it is in place to check depth.
4. Lift the float until the float tab touches the 18mm depth tool. The spring tool should hold it in place.
5. Using tool #9620.175.3071 check that the top face of the float is set at 14-14.5mm from carb body top surface. Adjust the bendable float tab to achieve correct height. Repeat for the other float. Make sure the float tab is square and free from scratches or scores that will affect sliding of the ball needle.
6. Modern digital calipers can be used in place of the depth gage, but they do not function as well.
7. Remove the spring float tool and reassemble carb top.
note: all 3 tools (Height ck, depth ck , friction spring)can be easily fabbed in a home shop.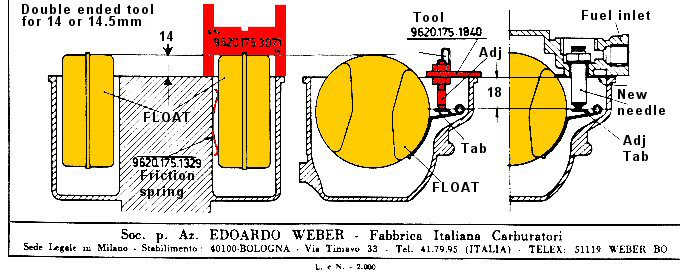 ---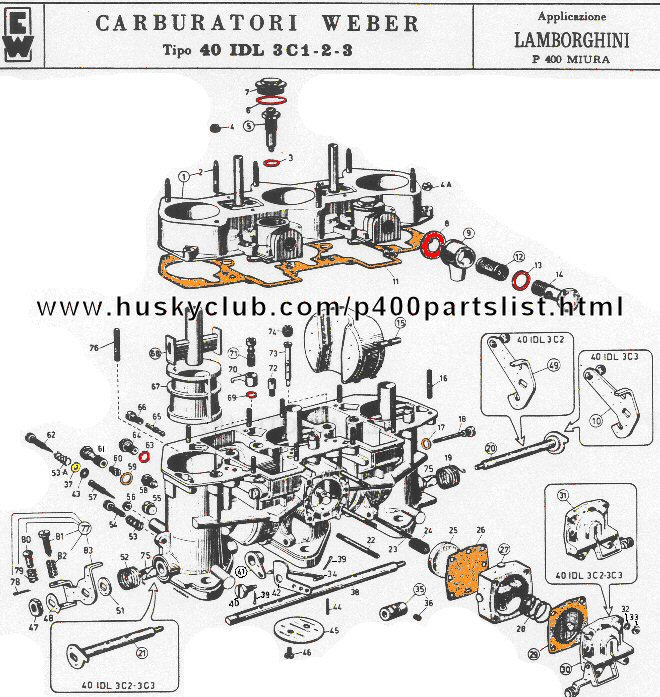 Adjusting Weber 40IDL3C carburators on a P400


with suitable size and type fire extinquisher equipment (Halon, CO2, etc) at the ready
1. Make sure the internal components of all 4 Webers are per specification.
2. Ensure float levels are adjusted to correct levels and fuel pressure does not run above 3psi. Ensure the engine timing is correct and spark plugs are new and functioning at peak.
3. Remove all loose clothing, jewelry, pens, cell phones, screwdrivers from pockets, then remove air filter assemblies.
4. Tighten the 12 idle mix screws #62 until they bottom, record turns to close on each, then open each 2 turns.
5. On the rear set of Webers, loosen the 6ea 8mm locknuts #56 and tighten the 6 air mix screws #57 until they bottom. Record turns to close on each.
6. Start the engine and then disconnect the front control rod ball of MA-03166 from the two forward Webers.
7. Using a suitable sync flow tool, check all 6 rear throats to find the one per Weber with max flow. Match the second Weber using screw #81, then adjust all using screws #57.
8. Disconnect control rod (MA-03166) from rear, hook rod up to front set of Webers, repeat flow balance technique of step #6.
9.Loosen screw #54 (idle stop) of the rear Weber set and connect both Weber sets together with link MA-03166. Adjust the flow sync again (front Webers vs rear Webers) by varying the length of this link.
10.Adjust front Weber set idle stop screw (52) to set idle speed to 1000 rpm.
11. Screw the throttle stop screw (52) of the rear Weber set until bringing it into light contact with the throttle control lever (83) of the rear Weber set.

---

scan of OEM P400 air box top screen lettering

---
links to other air cleaner graphics
http://www.400gt.com/photos/misc/DSCN0004(25).JPG
http://www.400gt.com/photos/misc/DSCN0028(16).JPG
http://www.400gt.com/photos/misc/DSCN0029(15).JPG

---
06/21/05 - Take a look at PMO carbs <www.pmocarb.com>. They specialize in Porsche retrofits, but I was looking into them when I had my Miura, and it looked like a great alternative, though not cheap (about $5k for 4 carbs). They re-engineered the IDA when Weber discontinued production. The Porsche guys love them. I spoke with the owner of PMO, and he seemed interested in working with me on my application, but I ended up selling the car so never followed through. Udo

---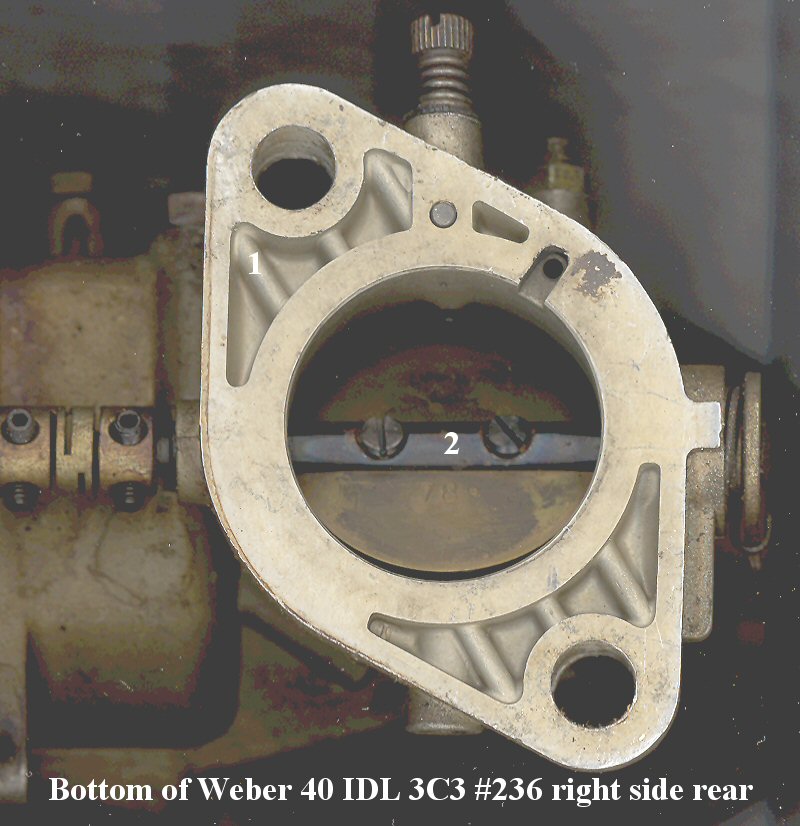 Hi Bob, been gone, sorry for no feedback. here is a photo of a 40 IDL 3C3 outboard throat, from the bottom, showing 2 items we discussed.
#1 Weber metal finish - the web area appears pretty virgin on this 40 year old, minimal miles, Miura Weber. The finish in the web area will of course show differently to everyones monitor, but the finish intensity certainly is visable. It appears to me to be a very slight finish, much less intense than show engines in publicity photos. But not just plain alloy aluminum silver. The baked, olive oil story i am having trouble with altho certainly colorful and very Italian.
#2 Weber throttle shaft - black oxide finish, indicating steel
The outboard shafts on 40 IDLs are all single and joined by an allen screw flex joint to the inboard double shafts. the throttle plates are stamped 78 o.
Not shown in this photo - some of the linkage bellcranks and all the square throttle pump body section and throttle pump cap appear to yellow zinc plated.
Based on viewing 3 Miura sets of 40 IDL, it appears any gold finish on the two cast body pieces is an owner choice to improve appearance. The original finish appears to me to be a finish i have seen for the past 40 years on some new carb castings of any and all brands (altho i cant quote a one right now). also seems similar to some motorcycle engine case finshes, some hydraulic equipment, some aircraft pnuematic and hydraulic pieces,
anybody know anything about this?

follow up December 2007- VLG group discussion -

I did DCOEs on my Espada earlier this year and they ended up being quite a piece of work because of how incredibly dirty they had become. There was a lot of corrosion on the outside and deposits on the inside. They were a much bigger project that I had originally anticipated. What a shock ...I had to re-plate everything and replace all the critical screws. I elected to upgrade some of the linkage and the parts total was probably $300. The plating of everything plus all of the linkage pieces was $100 and they only managed to lose one part, a 2" long linkage rod! Taking that many small parts in bags and on wire loops to a plater in Newark NJ was a bit nerve wracking. One has nightmares about what if they lose everything. I think I spent about $200 on chemicals. Oh, I almost forgot about the blasting cabinet and supplies I had to buy as well. But it was the amount of time that was the killer so I can well understand the $3000 US for 6 carbs. They turned out great but unlike the DCNFs on my Bora due to the their condition these were not a project for a beginner. Here's a few before/after shots. http://www.flickr.com/gp/13434495@N03/aS7331 Good luck with your restoration. Bob S

How did you protect the bead blasted DCOE Weber bodies? Nash

They were dipped in Henkle's(Loctite) Alodine clear, a misnomer, solution just enough to get a protective coating with a very slight coloration as well. This is an easy DIY job if you have everything apart and prep them properly. You can get them darker with a longer immersion or by getting a different color Alodine. I know it has worked as there has been zero corrosion since and prior to that one of the bodies I blasted had already started corroding after a month of sitting in an unconditioned room during the summer. How well it holds up in the engine compartment is another matter but it should be better than raw. I suppose you could also anodize them. I you look closely at one of the pictures you can see the raw versus "Alodined" versions side by side. Bob S.

Bob, nice photos. You did a great job. Love the yellow cad/zinc finish on all the steel fasteners. Very original as well. Below is a link for the Henkel's clear. Hexavalent chrome... hmm, I hope you didn't drink it - shades of Erin Brockovich! I think the chromate dip does offer some corrosion protection tho. It was used on carb zinc bodies as well.
cheers, jim http://www.chemical-supermarket.com/product.php?printable=Y&productid=398


Subject: [VintageLambo] Re:Weber Carb Outer case re- finishes - A little more info - At 02:11 PM 12/27/2007, you wrote:
http://www.eaa1000.av.org/technicl/corrosion/alodine.htm
http://www.my9a.com/wings11.asp
https://www.efinishing.com/html/probert.html
http://www.finishing.com/318/23.shtml
Bob S.

---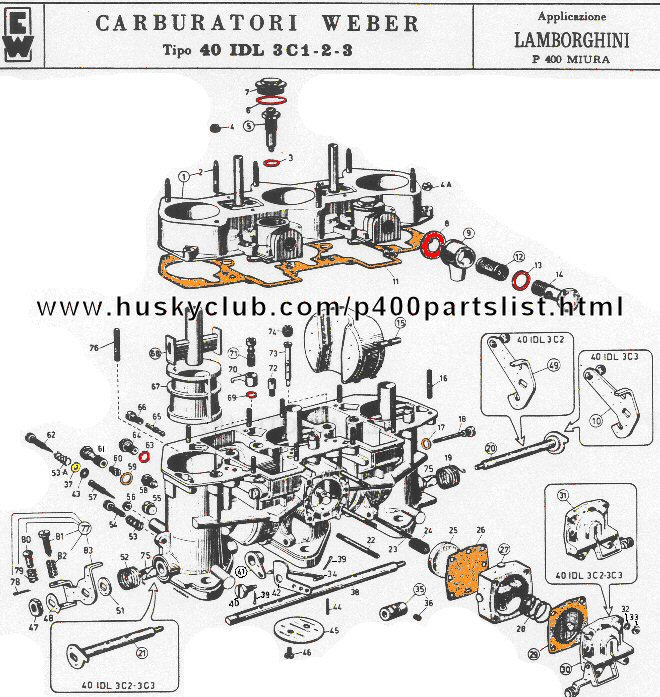 Ga
skets and "Kit" items for Miura Webers 40IDL 3C1,2,3
diagram
number

Quantity
per carb

Description 40 IDL Lamborghini

Weber no.
40 IDL 3C
vintage

material

finish

Weber no.
40 IDA 3C
2006

size
P400

notes from vintage pieces

ref

3

2

gasket, needle valve

41530.005

fiber

red

41530.005



10 x 15 x 1



6

2

gasket, plug

41530.035

fiber



41530.035



22 x 26 x 0.85



8

2

gasket, fuel inlet

41530.004

fiber



41530.004



12 x 23 x 1



11

1

gasket, cover

41710.001

paper



41710.001



0.5 thickness



13

2

gasket, fuel inlet

41530.001

fiber



41530.001



12 x 18.5 x 1



17

2

gasket, copper flat ring

41530.017

copper



41530.017



6.10 x 9.0 x 0.86



26

1

diaphragm, plain, pump

47405.011

flex mat

red

47405.011







29

1

diaphragm, metal, pump

47407.010

flex mat

red

47407.010







37

3

washer, needle oring seal

55510.018

brass

nat

55510.018



5.5 x 9.0 x 0.50



43

3

Oring

41565.002

rubber

black

41565.002



5.0 x



59

3

gasket, main jet retainer

41540.001

copper

nat

41540.001



8.0 x 11.0 x 0.55



63

2

gasket, bowl drain plug

41530.008

fiber



41530.008



7.0 x 10.6 x 0.85



69

3

gasket, pump jet

41530.012

fiber

red

41540.014



5.75 x 9.0 x 0.80























items not adressed by either spec sheet



3

gasket, air horn to top
lambo

paper





45 bore x 65 bolt pattern x 1mm thk x 6mm holes

MA-04206



1

gasket, top to air cleaner plate

lambo

paper







stand pipe carb

MA-03901

alt

1

gasket, top to air cleaner plate

lambo

paper



99005.020 ?


screen carb





6

gasket, base

lambo

paper



?



40 bore x 76 bolt pattern x 1mm thick x 9mm holes

MA-02954



1 ft

wire, safety, choke set screw



steel







0.5 mm steel wire





1 ft

wire, safety, float fulcrum pin



copper







0.5 mm copper wire























other items usually included in a basic "kit"

5

2

needle valves, pin valves

64240.009*
brass/steel



79508.*

175

marked - EW 175































































hilighted items don't match vintage numbers, may be same , let me know please.

Listing of possible materials useful in Weber rebuilds

number

Description of product to be
used in Weber rebuild

material

container

graphic

notes from vintage rebuilders

additional ref

1

Hylomar spray gasket sealant

Hylomar

spray
5oz
12oz



lay out all paper and metallic gaskets ,
spray light coat and wait till dry, flip
and spray backside of all gaskets the same

HylomarBlue.com

2

Alodine 1001 clear chromate



bulk
qt
gal



used to restore the original Weber finish
when a light tan color is desired



3

Alodine 1201 chromate conversion



bulk
qt
gal



used to restore the original Weber finish
when a deeper tan/gold is desired



4

Permatex gasket remover



spray
16oz



used as a carb cleaner after intial cleaning
with cheap carb cleaner

if original carb finish is to be retained,
do not use any metallic brushes or wool
along with this . Only plastic or hair bristles!



5

Carburetor spray cleaner



spray
16oz+



cheap carb cleaner for intial cleaning
and to follow up clean away the more
aggressive gasket remover gel .

if original carb finish is to be retained,
do not use any metallic brushes or wool
along with this . Only plastic or hair bristles!



6













---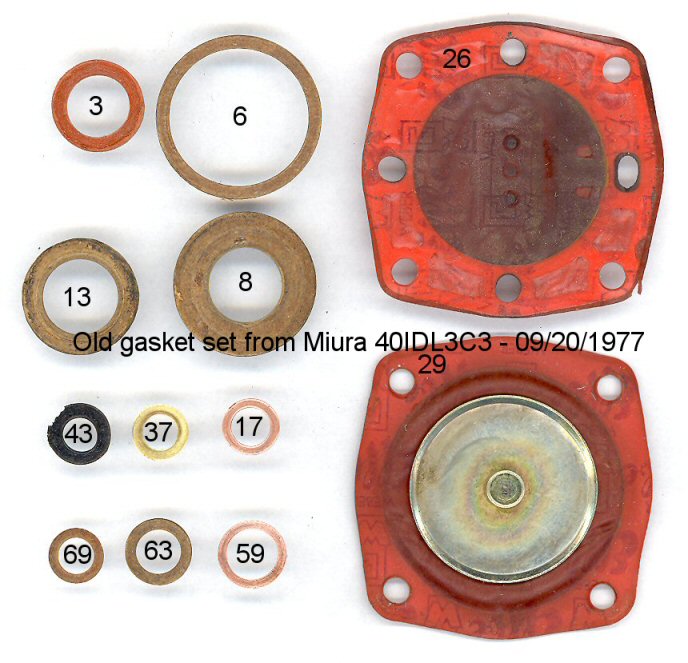 ---
Tools for repair and overhaul reference. Thank you to Fred Paroutaud
page 1 of Weber tools
page 2 of Weber tools

---
Copy of 40 IDA repair manual, not complete, but most pages - Motor Meister

---
for Porsche reference - Porsche Weber 40 IDA 3C page

---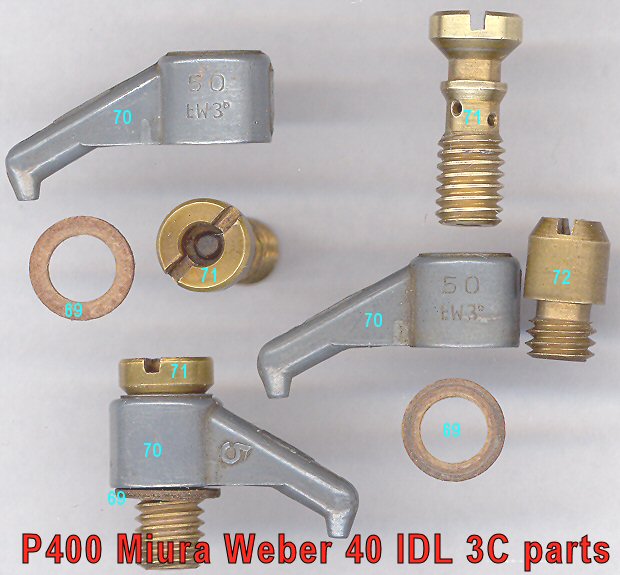 ---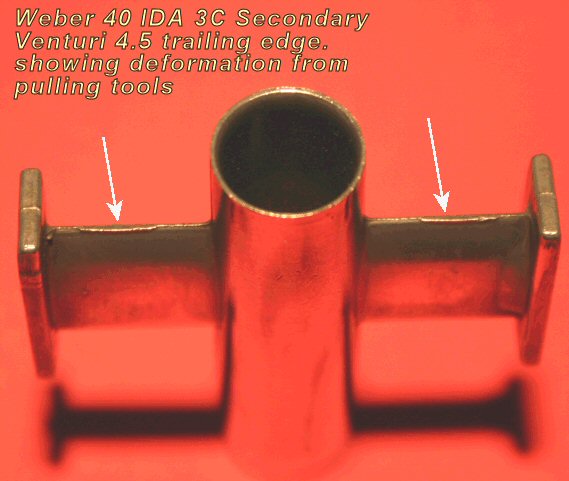 ---
DCOE stuff - L6 weber discussion

---
Hi all VLG, The hesitation occurs as I mentioned when I stomp on the Miura throttle hard. The hesitation is slight, but it is noticeable. The engine does not try to die or anything of the sort. It's just one of those things that the car runs at 9/10ths and I want it to run at 10/10th's. Alberto

Hi Alberto. If all of your ignition system is totally correct and the ignition timing is set correctly. Here is what I would recommend to do with your Miura Weber carbs. The inlet pump check valves (72) are sold in calibrated sizes. Buy a set of 4 with "NO" bleed back hole (79701.000). Set the linkage rod (34) on the accelerator pump cam (42) to the middle position hole. Tune the idle fuel mixture adjustment screws (62) just slightly to the rich side. Your car will perform better "Note" Do not use the wet Porsche fuel level gauge on the Lamborghini Miura as the carburetors do not sit level on the engine. The front carbs cant forward and the rear carbs cant rearward. You will get your self into a real mess if you use this gauge. Best to use the dry setting. Best Jeff Stephan

---
At 01:31 AM 10/24/2007, you wrote:Sorry I haven't been active for awhile but I have been stirred to action to add my experience with ultrasonic cleaning.I have tried using Gunk and other carb cleaners repeatedly in the past with less than satisfactory results. It's messy, it stinks, and it doesn't get everything off the aluminum. You can scrub the surface but there's no way to clean the inside and the interior passages.I took my disassembled carbs to a shop in Pittsburgh who used a hot liquid with a cleaning agent for about 15 minutes per cycle. Can't recall the specifics of temperature or chemicals but it was a fairly "gentle" regimen according to the owner. When the carbs came out of the hot bath, we immediately blew out the passages with air and lightly brushed all the residue off the exterior. I recall Gunk not removing similar stains in the past. I did not remove the throttle shaft bearings. A former tech specialist at Pierce Manifold talked me through the process of replenishing the bearing lube with Finish Line teflon grease and installing the new leather seals and machined caps they provided. The throttle shafts felt smooth and spun with low torque when I reassembled the carbs. They have been on the car for over two years with no problems whatsoever. Having witnessed this ultrasonic process firsthand, I find it hard to believe that it would damage the bearings. I could be totally incorrect in this assumption, but I have seen no evidence of any issues. I posted some photos of the assembled carburetors which show the resulting condition of the aluminm. All in all, I'm very satisfied with the results so far and would recommend ultrasonic cleaning for these types of components.Dave

Hi Dave, i think you are quite right when it comes to cleaning Webers. The Weber shafts are quarter turn and lower than low speed application, so it seems reasonable that ultrasonic cleaning would work fine. Can you give us a little more detail please? The vendor/shop? cost/timing? details on grease, maybe this is a link? - http://www.finishlineusa.com/products/fortified-grease.htm do you use a paddle or syringe or ? to inject grease? thanks for your input on this. Craig

Craig, The link you posted does show the grease that I used. I think I packed it with a flat toothpick, spinning the bearing as I added grease. I don't recall any problems and it seemed pretty simple. The shop that did the procedure is Power Brake X-Change in Pittsburgh. (412-441-5729 Talk to Harold) It took a few hours to do all the carbs and both the intake manifold assemblies since they all didn't fit in the tank at once. Total cost was $150 which I considered a bargain. I hope Harold is still in business because these places are a dying breed. Dave

---
Miura Weber modification as taken from the Ferrari 365GT4/BB tech - PDF file - 729KB
---
MiuraWorkshop for Lamborghini P400 Miura technical